Toronto's chic Yorkville neighbourhood is well-known for its designer boutiques, upscale hotels, swanky restaurants and world-class museums and galleries, but it wasn't always that way. The area surrounding Yonge and Bloor has gone through an incredible transformation over the last 60 years, evolving from a bohemian hippie enclave into an internationally acclaimed cultural hotspot.
Today, Yorkville delights visitors and residents with its hidden gems and unique urban landscape. Read on to immersive yourself in the rich history of this storied Toronto community and uncover local legends and fascinating facts from past and present.
YORKVILLE'S BOHEMIAN BACKSTORY
Once a quaint suburban village annexed to the City of Toronto, Yorkville flourished as a hippie haven in the 1960s and became the centre of Canada's bohemian counter-culture movement, not unlike New York's Greenwich Village or San Francisco's Haight Ashbury district. The neighbourhood's affordable real estate and emerging art scene drew crowds of rebellious youths and barefoot vagabonds who travelled from across the country to partake in the culture of free love and mind-altering psychedelic drugs.
Stately Victorian homes were transformed into avant-garde coffee houses and nightclubs that hosted live poetry readings, experimental art and live music performances. Perhaps the most iconic local landmark during Yorkville's hippie era was the Riverboat Coffee House, an intimate basement venue where Canadian folk legends like Joni Mitchell, Gordon Lightfoot and Bruce Cockburn graced the stage early in their careers. Singer Neil Young even immortalized the beloved Riverboat Coffee House in his song Ambulance Blues.
In the early 1970s, improved transit routes and a real estate boom ushered in a new era of urban development and gentrification in the Yorkville neighbourhood. As property values increased, the coffee houses and live music venues were replaced with upscale high-rises, office towers and designer department stores. In turn, Yorkville's hippie residents migrated to rural communes outside of the city and the neighbourhood began to emerge as one of Toronto's most luxurious addresses.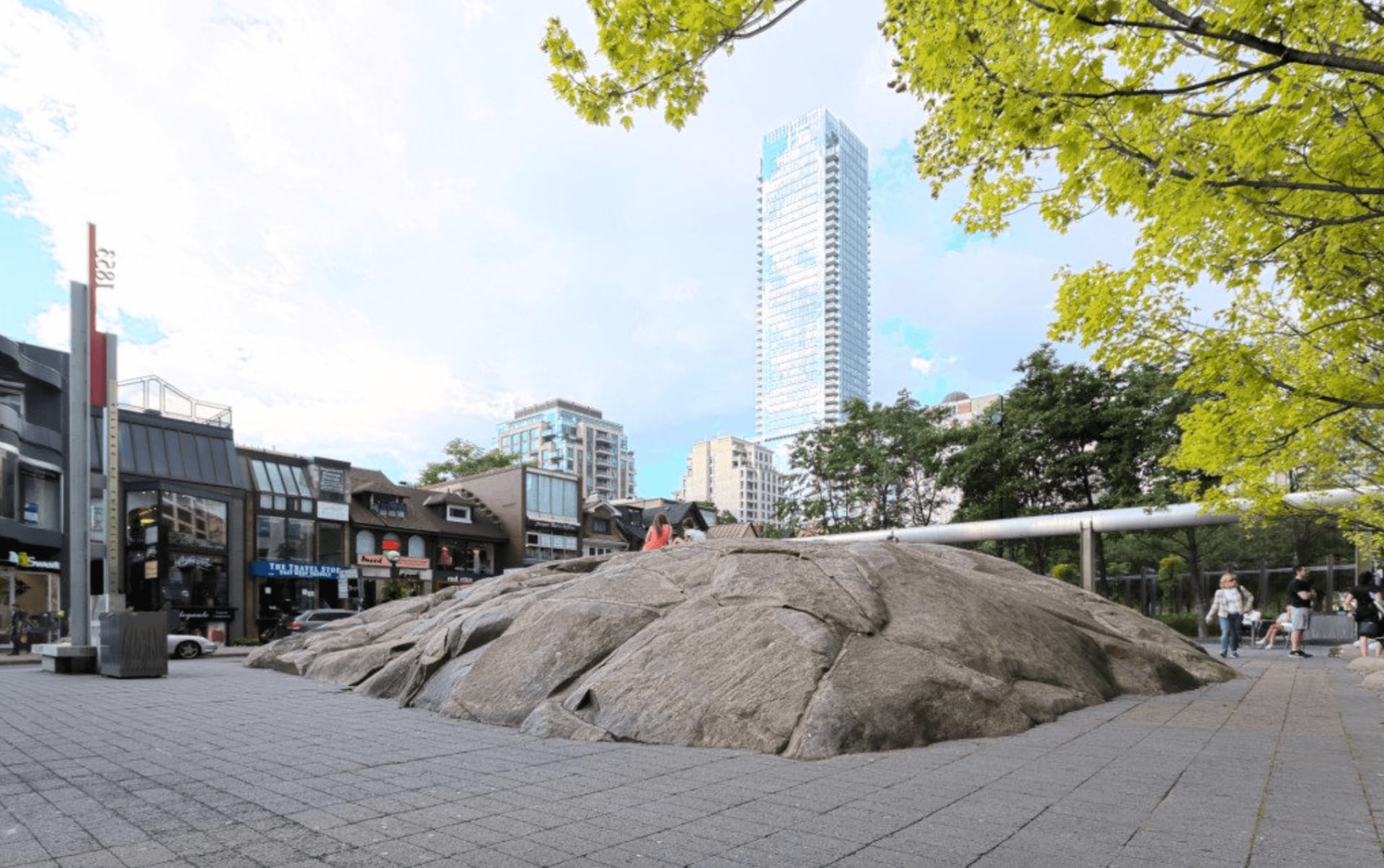 Photo courtesy Bloor-Yorkville BIA
FROM PARKING LOT TO URBAN PARADISE
Today the Village of Yorkville Park is a popular open-air gathering place, but there's more to this grassy spot than meets the eye. The Victorian houses that once occupied the site were demolished during the construction of the Bloor subway line in the 1960s and were replaced with a surface parking lot. In fact, Canadian songstress Joni Mitchell was inspired by this very corner of Yorkville when she infamously sang "They paved paradise and put up a parking lot" in her hit song Big Yellow Taxi. The parking lot at Cumberland Street and Bellair Street stood for decades before it was transformed into the Village of Yorkville Park that we know today.
The lush community greenspace is the result of an international design competition and features a number of distinctive landscaping elements, including a 700-ton piece of Muskoka granite transplanted from the Canadian Shield, a fountain designed to mimic a rain curtain, and 11 geographically unique plant gardens. Each plot has been designed to showcase a different element of the Canadian landscape (upland forests, crab-apple orchards, marshy wetlands and more) and garden borders trace the former property lines of the heritage homes that once stood on the land.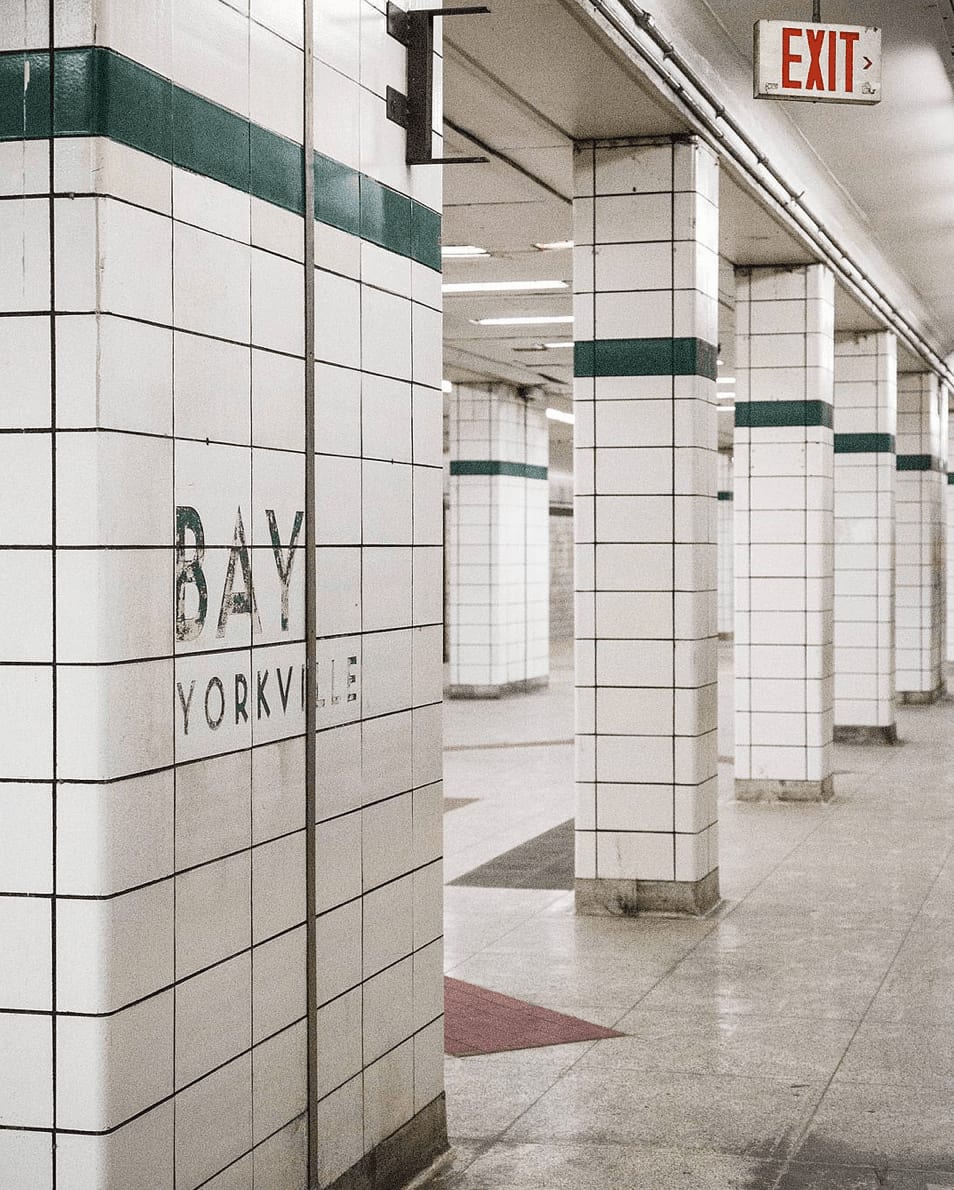 Photo courtesy Instagram / @stephkphoto
BAY STATION'S SECRET SUBWAY PLATFORM
Located in the heart of Yorkville at the corner of Bay and Bloor, Bay subway station is a busy transit hub packed with shoppers, tourists, office workers and neighbourhood locals. But did you know there is a secret subway platform hidden directly below the hustle and bustle of the Bloor Danforth line? The long-abandoned Lower Bay station was used for just six months in 1966 as an interchange station between Lines 1 and 2 before it was ultimately sealed off due to connectivity issues. Accessible only via unmarked fire doors, the forgotten TTC station is now known for its eerie ambiance and is rumoured to be haunted by supernatural spirits.
Today, the Lower Bay platform is closed to the public and is used predominantly for employee training, though the station is available for private bookings, film shoots and is occasionally unlocked for curious visitors during special cultural events such as the annual Doors Open Toronto festival and Nuit Blanche.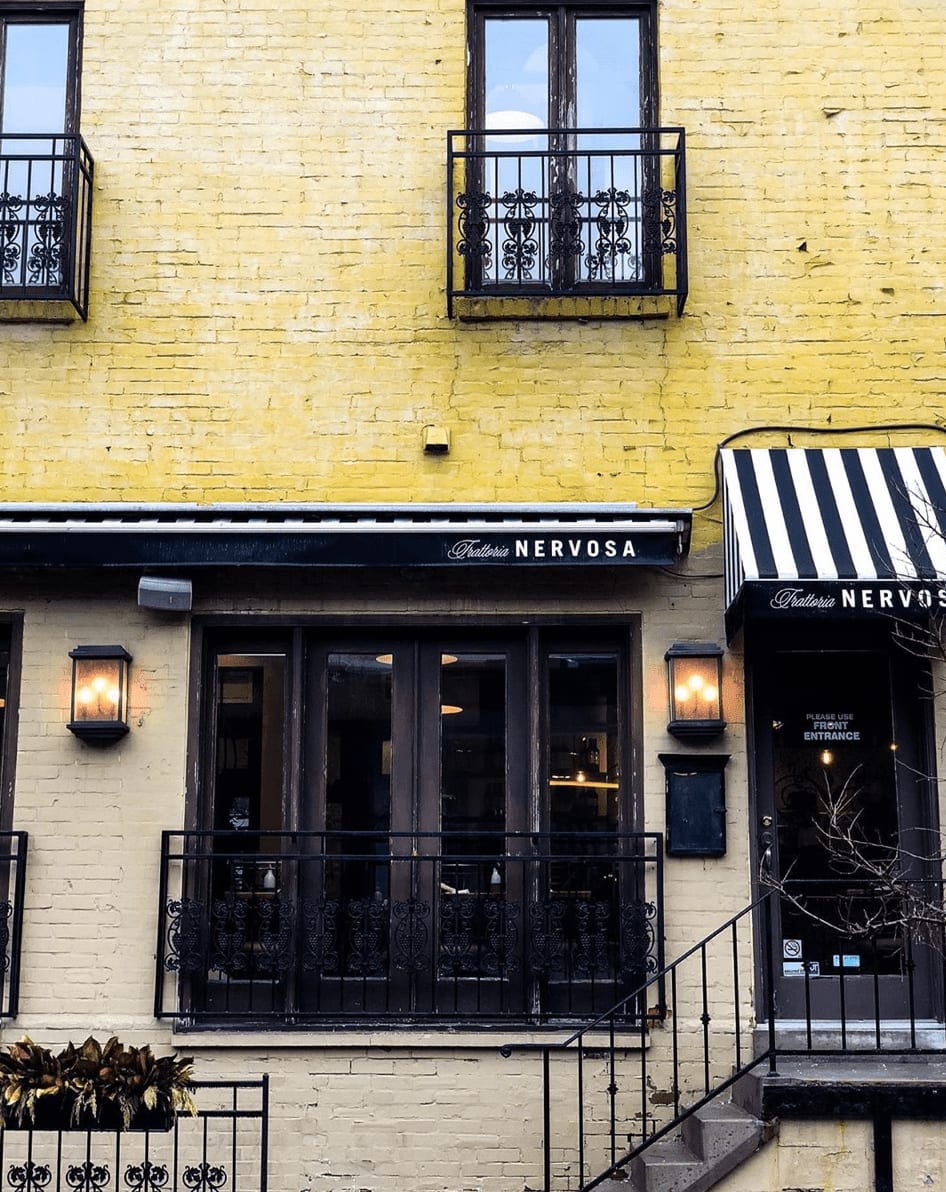 Photo courtesy Instagram / @nervosato
AN A-LIST HIDEAWAY FOR VISITING CELEBRITIES
With numerous five-star hotels and glamorous fine dining options, it's no surprise Yorkville is a hub for famous faces. Many visiting celebrities don't necessarily want to 'see and be seen' but it is possible to do some star spotting in the neighbourhood – you just have to know where to look. The Hazelton, an exclusive boutique hotel on Yorkville Avenue, is a good place to start. The luxury hotel has seen the likes of Justin Bieber, Jennifer Lopez and Ben Affleck check-in for a night; Mark Wahlberg even purchased a $12 million penthouse suite at the property back in 2011.
Yorkville's upscale dining rooms are also a great place to catch a glimpse of visiting pop stars and movie legends. Italian eatery Trattoria Nervosa is a reputed low-key celebrity hangout where Beyoncé and Jay Z have been photographed and longstanding restaurant Sassafraz has hosted Denzel Washington, Bruce Willis, Meg Ryan and many more A-list actors. And while Drake (arguably Toronto's most notorious resident and unofficial hype man) sold his Yorkville condominium back in 2013, he can still be found in the 'hood dining at Sotto Sotto – a go-to celebrity eatery that the rapper often name-drops in his lyrics.
A storied spot rich in history and brimming with personality, it's easy to see why Yorkville is considered one of Toronto's most fascinating neighbourhoods.
*Cover photo is courtesy of blogTO.com
** Published by 11Yorkville.com APRIL 7, 2020