For Theresa Lola, no other artform is equipped to express human emotion like a poem. "One of the things that poetry does is it's very straightforward," she says. "It goes right to the heart and right to the point."
As the 2019/20 Young People's Laureate for London, the British-Nigerian poet focused her work on mental health and finding peace at the start of the pandemic, encouraging young people to express themselves through poetry. During her time in the role, she carried out residencies at the Wellcome Collection, St Paul's Cathedral and the Free Word Centre exploring themes of identity, wellbeing, climate change and housing. Her debut full length poetry collection is titled 'In Search of Equilibrium' and she has been featured in British Vogue.
As part of Sotheby's Jubilee Arts Festival, celebrating British creativity and inspiring the next generation, Theresa will be leading two workshops, one for young people and one for adults, as well as holding her own poetry reading and Q&A.
Here, she talks about her plans for workshops, how poetry has the power to move and connect people over important moments in history and how her love affair with the artform began.
When do you first remember being moved by poetry?
I'd always loved writing because I loved reading. I wanted to create my own worlds but I didn't start writing poetry until I was about 13 when my English teacher convinced me to go on a school trip to a poetry festival. I heard a poem – quite a short, historical poem – and I was so moved. I thought, wow, to be able to tell us so much about not just an event but also the emotion behind it – that is such a skill. There's a lot you can communicate with a poem, that could change someone's life and educate them at the same time. I wanted to be able to have that sort of power.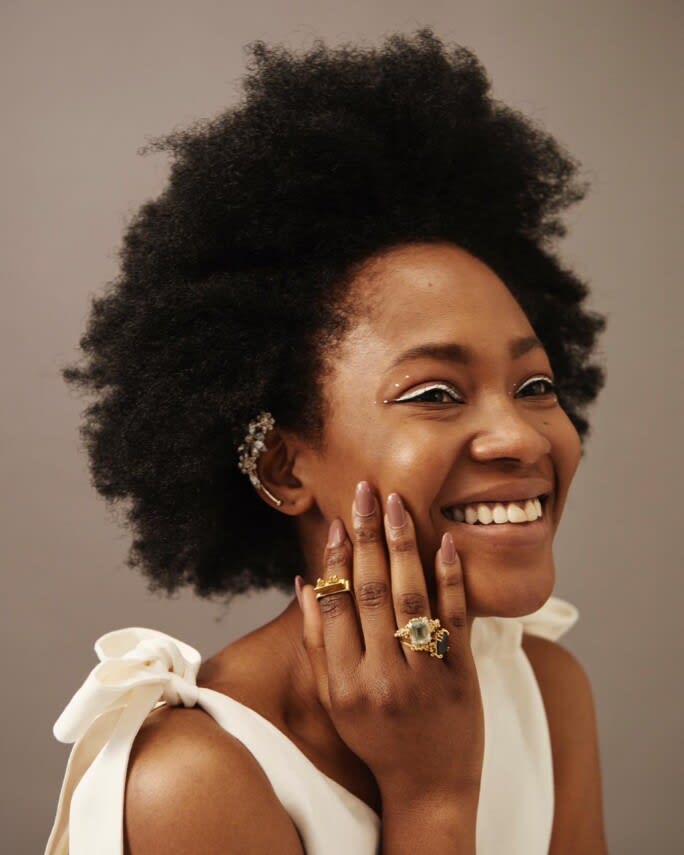 Image courtesy of Theresa Lola
Tell us about the workshops you're going to be running at the Jubilee Arts Festival at Sotheby's. How did you decide on the themes?
I knew I wanted the workshops to be celebratory, for people to come out writing poems that were empowering and made them smile and feel joy. Especially in the time we're in. But I also wanted poems that felt like them – that allow them to discover something about themselves. Because that is what poetry is: it's about discovery. The workshop for teenagers is themed around identity and what makes us who we are: events, relationships, beliefs. Because we are still shaping ourselves. But also having fun with it, so what year were you born? What kind of things were happening that year? It's really about embracing all of the things that make us who we are.
That workshop's title is 'I Come from Everywhere'. What or who has shaped the person you are today?
I was born in Nigeria and I moved to the UK when I was 13 so those experiences definitely shaped me. Coming here, I realised there's a Nigerian identity, there's a British identity and there's a Black British identity. There are many things that make us who we are but what I love is that whenever you create, no-one can create like you. For example, there are so many Nigerian British painters and artists and writers. Some of us have similar experiences but none of us create the same kind of work. People and places are the two things that are my biggest influences.
The workshop for adults is about ode poems. What do you love about them and what have you written odes to?
An ode poem is a traditional poem that dates back hundreds and hundreds of years. Ode means 'praise'; it's a praise poem. So we're going to be writing odes celebrating not just the big events but the little things, the small wonders that are so intertwined in our routine that we don't get to realise how valuable they are.
My ode poem is to my glasses, actually! I rarely wear my glasses out because I tend to wear contact lenses. The first thing I do in the morning is put my glasses on and I just thought this is such a beautiful invention! So I thought that I would write a poem to celebrate that. My favourite ode is Pablo Neruda – he has loads of different ode poems but Ode to My Socks is the one that I would go for because between the shoe and feet, the socks are the least obvious choice to base a poem on. The imagery is just so striking and interesting as he describes his feet as really weird things – "my feet were / two fish made / of wool / two long sharks". It gets you to stop and think which is what a poem is supposed to do.
I get to do readings quite a lot but it's very rare that I get to do a Q&A and just to talk and have a conversation with the audience about what I was feeling when I wrote the work. Also about the technicalities of the work, how did I write the poem and editing the poem. Because poems change all the time; you write something and then you change it later on. Just being honest – that's what my audience can expect. Some of them might be creatives and I also want to have a conversation with them and maybe ask them questions as well. My poems tend to be about memory, home, family, friendship, relationships, love and loss.
How important is it for you to perform your words to an audience? How does that change the experience of consuming poetry?
I love reading my work [out loud]. I mean, it was the scariest thing before I started doing it but I've realised the beauty of sharing your work because there is a different layer that your voice adds to it. Voice is another character in itself. It opens up a different dimension of a poem and I find that I rarely read the same poem the same way twice. However I'm feeling on that day tends to change how I read the poem or maybe a new experience I've had adds another layer to how I look back on that poem. Voices just add life to a poem. It gives form to it and adds a certain level of cadence and emotion that just reading a poem on the page might not necessarily bring.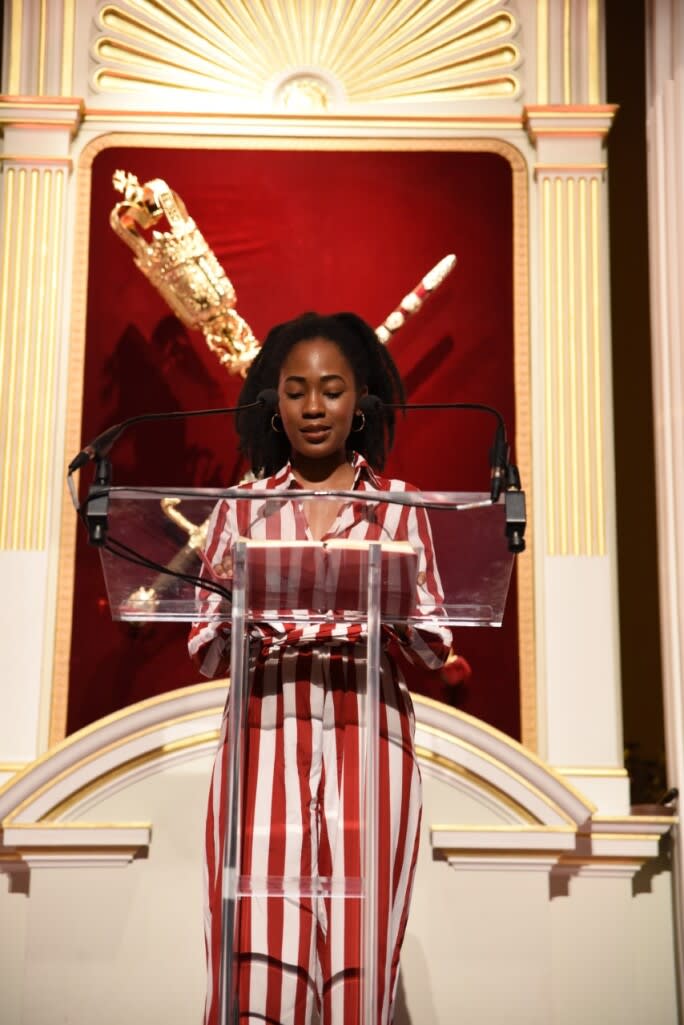 Image courtesy of Theresa Lola
Why do you think that poetry is so important to mark or commemorate certain events or moments in history?
Whenever we have a special occasion, like the Jubilee for example, there are loads of people talking about it but a poem is very compact. Yes, you can have stories in a poem but a poem is more concerned about the emotion. Whenever you have a big event like this one, there's a lot of different emotions happening – people have different feelings towards it. So a poem just seems like the perfect way to respond to that because it allows – as small and compact as it is – it allows for so many different voices to enter it and for people to take different things from it, whether it's a line or a little nugget or the whole thing. There are not a lot of artforms that allow for that but a poem does. It's giving and it serves people.
How do you find young people respond to experimenting with poetry and what do you hope they take away from a workshop?
What I've found with young people is two things. One: they want to see themselves in poetry and two: they just want to say something! It's a good thing because the future is in good hands. Poetry is actually a great tool for young people because there's so much you learn: public speaking, confidence, how to communicate, how to edit your voice in a good and healthy way, how to be conscious about what you share and what you don't share. Because the moment you're about to share a poem, you have to think 'am I comfortable with this line? With that line?'. It's understanding boundaries.
Do you find it inspiring hearing young people's ideas?
I do! Some of the most incredible lines of poetry I've heard are in workshops with young people. Yes, they understand the rules and techniques once you educate them about it but they aren't too self-conscious the way professional and established poets become, once the awards and things come in. That pretentiousness doesn't exist. They just love words and want to say something with words. I find the ideas are a lot more elaborate, creative and boundless.
What other events from the Jubilee Arts Festival programme are you excited about?
Definitely the Hip Hop vs Shakespeare on the 9th June. That's a conversation that I'm excited for. There are a lot of similarities and I love that Hip Hop and Shakespeare exist in the same conversation. Violence, tragedy, honesty, rawness – those are things that Shakespeare and Hip Hop both possess. And I'm a fan of George the Poet so I'm really interested to hear his perspective.
Also the James Bond one! It's great when you have an artform which becomes almost like a symbol for the country. It speaks to the power of art. As a fan, I want to be there!
Events with Theresa Lola at Sotheby's
Poetry Reading & Q&A – 1pm, Wednesday 1st June – Book tickets here
Poetry Workshop for Older Teens – 1pm, Saturday 4th June – Book tickets here
Poetry Workshop – 7pm, Friday 10th June – Book tickets here