High above the Credit River in Mississauga sits a venerable fortress fit for rock royalty.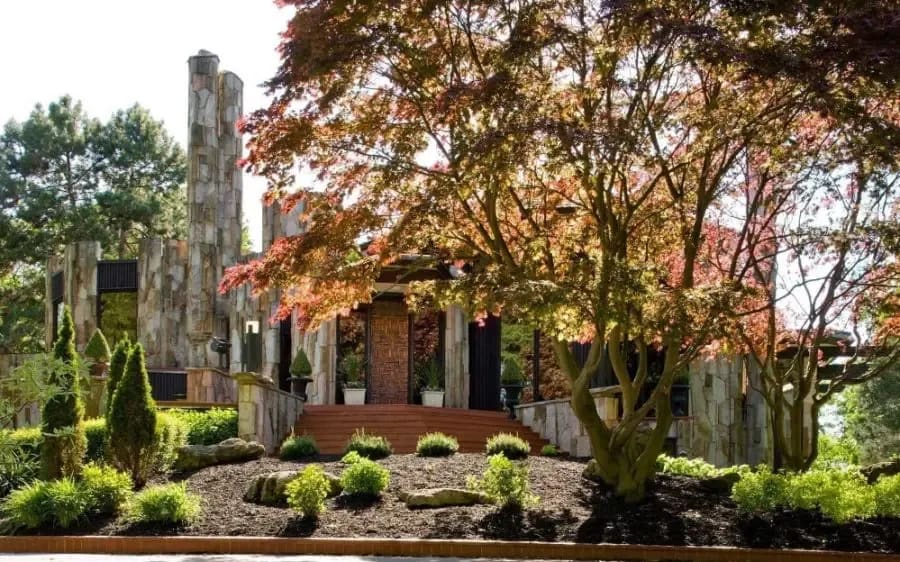 The Frank Lloyd Wright-inspired abode at 2350 Doulton Drive was reportedly the one-time residence of the Rolling Stones. According to
Toronto Life
, the band called the 10,0000-sq.-ft mansion home while they were in town for SARS Stock, AKA Molson Canadian Rocks for Toronto, in 2003.
While the Stones paid a reported $40K per week for the home, it can be yours for just a $50K down payment…plus another $50K every month for 25 years based on current interest rates.
Situated on a 2.3-acre, sun-soaked ravine lot, the unique abode boasts octagonal rooms, rosewood trim, and limestone flooring. The jagged stone pillars that jut out at at various heights around the home are actually chimneys, each belonging to a separate fireplace.
The unique layout places four of the bedrooms, each with its own walkout, on the ground floor, while the principal rooms are situated one level up. The primary suite, with its five piece ensuite, walk-in closet, and private patio, is a few steps above.
Perhaps the Rolling Stones were drawn to the home's acoustic room, with its stone fireplace, 20-foot clearance, and otherworldly wooden ceiling, or perhaps it was the home's spacious wine cellar. The indoor pool, which gazes onto the tree-lined property, is another rockstar-worthy highlight.
The Specs:
Address: 2350 Doulton Drive
Bedrooms: 5
Bathrooms: 6
Price: $8,995,000
Size: 10,000+ sq. ft.
Although the home is reminiscent of Wright's organic architectural style, it was, according to the Toronto Star, designed by Montreal's Frederic Roman for businessman John Sazs in the 1970s. It took two months to design and another 18 months to build.
Since 2010, the home has been up for sale 10 times — with the asking price ranging from $5.9M to just under $9M — and been listed for lease another 13 times. It has been successfully rented three times, for $8K and $12K per month, in addition to the Stones' pricier tenure.
As the listing notes, there are "many opportunities" for 2350 Doulton Drive. The new owners could simply move into one of Mississauga's most unusual properties, or start fresh and build their dream home in its wake. The latter, as the Star reports, is what Roman feared.
Written By Zoe Demarco - Published in Toronto Storeys - February 08 2023
EXTERIOR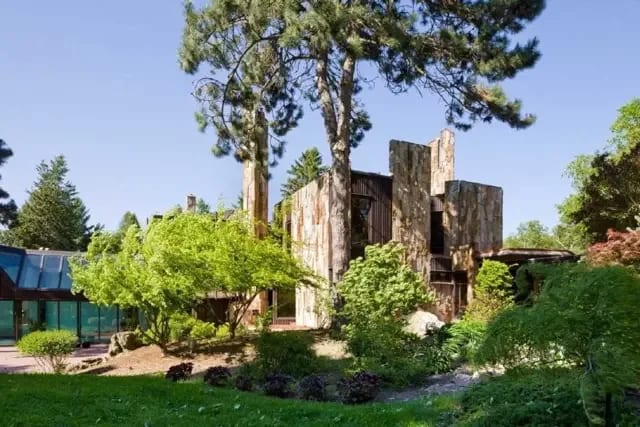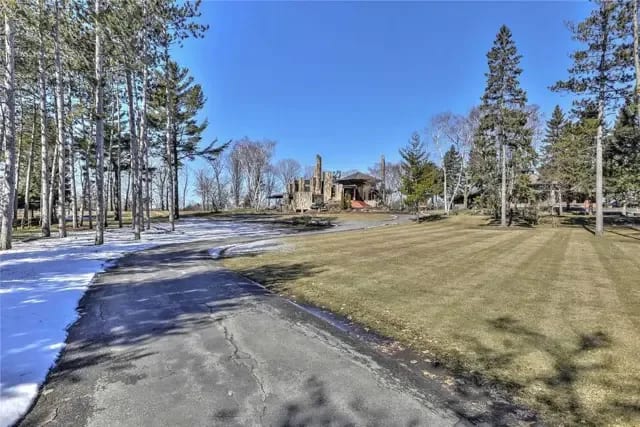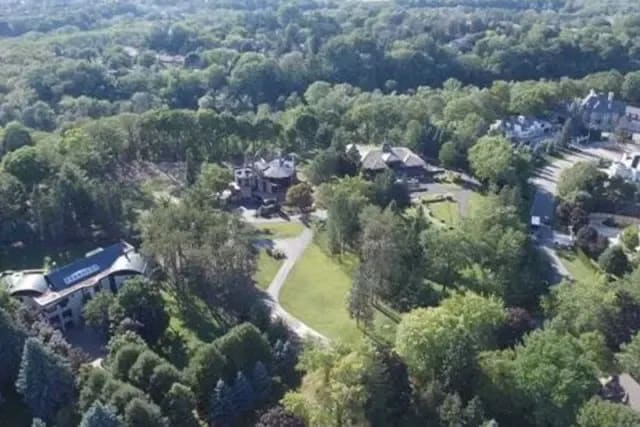 INTERIOR