When the artist Adam Pendleton first heard in 2016 that musician Nina Simone's childhood home in Tryon, North Carolina, where she first learned to play piano, was hitting the market ahead of demolition, he knew he had to save it. The contemporary artist recruited Julie Mehretu, Ellen Gallagher, and Rashid Johnson to form a four-person LLC to purchase the property for $95,000.
This week, their efforts were helped along through a partnership between the African American Cultural Heritage Action Fund and Pace gallery, which hosted a gala and auction that raised nearly $6 million to preserve Simone's legacy.
"We didn't even know what we were embarking on," Pendleton recalled of his purchase of the property, during this Saturday's gala dinner held at Pace Chelsea, where the works on sale in the charity auction have been on view. "What we did know was the power of Nina Simone's music, the power of an artistic legacy, the power of defining actively as an artist, as a musician, as a citizen, what America is, and what America can be."
Chef JJ Johnson made dinner for the evening, and Grammy Award–winning musician H.E.R. performed Simone's "Four Women," which traces Black history through four imagined characters. The gala event raised about half a million dollars, according to Pace.
Pendleton and Marc Glimcher began planning both the party and sale back in 2019, the their efforts were obviously postponed by the pandemic. Meanwhile, tennis star Venus Williams joined Pendleton in selecting 11 artworks for the auction, which Pace helped facilitate on Sotheby's online platform, featuring contributions from the four artists involved in the project as well as other artists such as Stanley Whitney and Anicka Yi.
The works all tie back to Simone, either through their titles or by honoring her impact more indirectly. "Each of the artists Adam and I have selected for the auction has a unique, powerful voice," Williams told interviewers as the sale neared.
The online auction opened for bids starting May 12, and closed today. By 2pm, an hour before concluding, two of the lots, including Ellen Gallagher's print Abu Simbel (2005), a sci-fi inflected depiction of the ancient Egyptian site, were still awaiting their first bids. Meanwhile paintings by Cecily Brown and Sarah Sze had outdone their upper estimates of $260,000 and $480,000 respectively, both selling for $900,000 each. And even Julie Mehretu's New Dawn, Sing (for Nina) (2023) shattered its $1.2 million estimate, fetching $1.6 million. In the end, the auction garnered $5.38 million in total for the cause.
Paired with this weekend's gala, sales totaled $6 million, which will ensure Simone's childhood home can remain standing. The site may even one day serve as a cultural hub for creatives across generations. So far, representatives from Pace said, Pendleton's collective has already partnered with numerous groups to help stabilize the Appalachian home's exterior. Construction should resume this fall, as the home transforms into a multicultural ode to Simone's enduring impact.
Originally Published in Artnet by Vittoria Benzine,
An Activist and Musician from the Very Beginning
From article originally published in The National Trust for Historic Preservation published May 22 2023.
Nina Simone was born Eunice Waymon in Tryon in 1933. In her childhood home, she developed a love for her piano and experienced racial discrimination that would shape her world view and social activism later in life. Her mother was a devout Methodist preacher, and her father was entrepreneurial (he had worked as an entertainer early in his own life). Though the Great Depression undoubtedly affected the family's beginnings, they still provided Simone with opportunities to strengthen her passion—and talent—for music.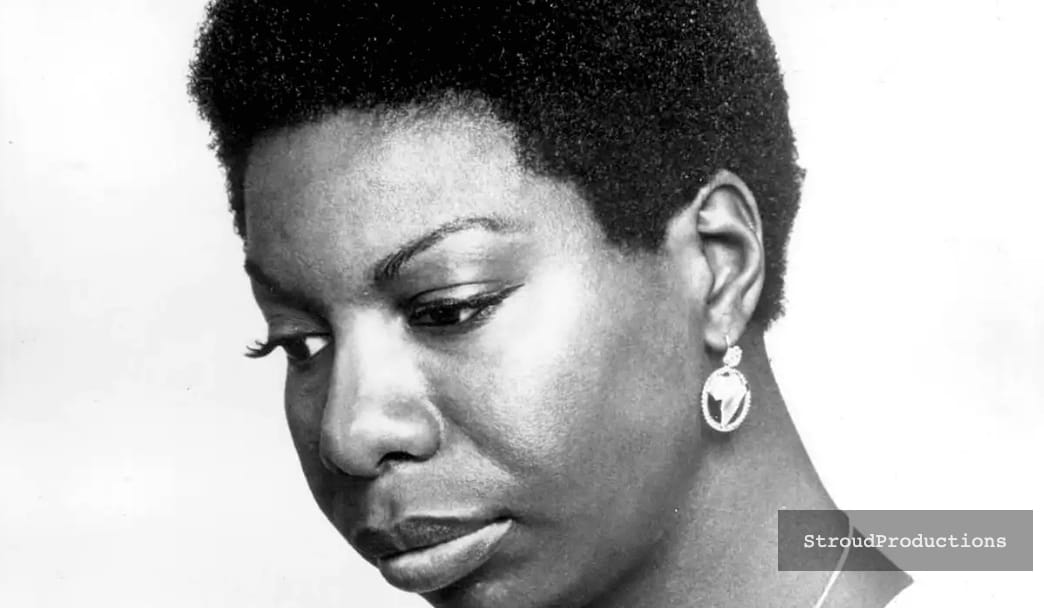 As a young girl, Simone accompanied her mother's sermons and the church choir on the piano during services. After hearing Simone, then age 6, accompany the community choir at the Tryon Theater, two women convinced her mother she needed formal piano lessons. One of the women, Mrs. Muriel Mazzanovich, was a local piano teacher. She taught Simone at her house in Tryon for the next four years and organized the Eunice Waymon Fund to raise money for Simone to continue her training after she left for high school.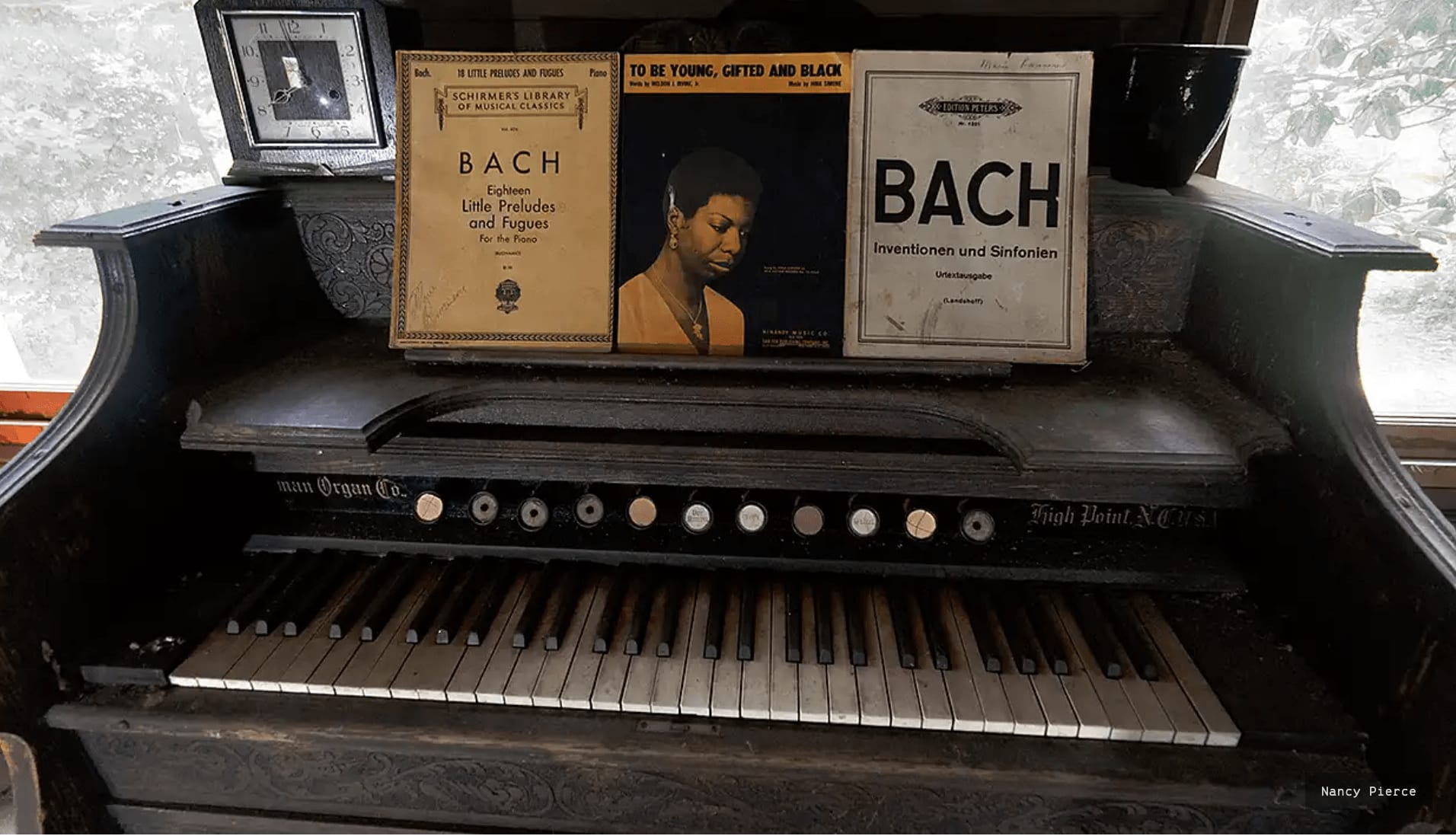 This multifaceted project highlights the vital work of the African American Cultural Heritage Action Fund. Established by the National Trust in 2017, the Action Fund is helmed by Executive Director Brent Leggs, who also serves as Senior Vice President of the National Trust. The Action Fund's mission is to make a lasting impact on American history by preserving sites of African American activism, achievement, and resilience. It is the largest ever preservation effort dedicated to African American historic sites.
In support of this watershed initiative, many of the participating artists will attend the in-person gala at Pace's New York flagship on the evening of May 20. To inquire about purchasing tickets for the gala dinner, please contact [email protected].
Register for updates at pacegallery.com/nina-simone.
To make an individual donation to the African American Cultural Heritage Action Fund's Nina Simone Childhood Home preservation project, please visit savingplaces.org/supportnina.
Adam Pendleton says:
"Nina Simone is one of the most important musical artists of the twentieth century. I'm inspired to be able to protect her legacy by preserving her childhood home. Her music, her vision, cannot be forgotten."
Venus Williams says:
"I'm so excited to be a part of this expansive project centering on the life and legacy of Nina Simone, who has been a huge inspiration for so many. Each of the artists Adam and I have selected for the auction has a unique, powerful voice, and we've been moved by their generosity and enthusiasm for this important cause. It's been a privilege to collaborate with Adam in curating the auction."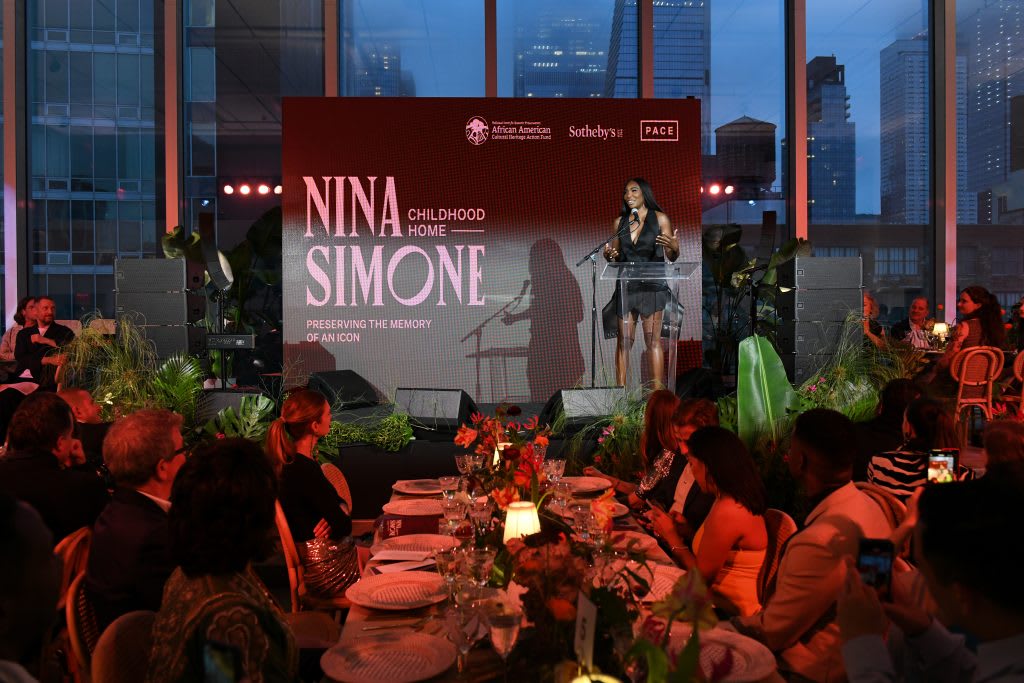 Brent Leggs, Executive Director of the African American Cultural Heritage Action Fund and Senior Vice President of the National Trust for Historic Preservation, says:
"Nina Simone's childhood home provides a lens into the contours of her life growing up in the Jim Crow South. Our partnership with the artists, Venus Williams, and Pace Gallery is a powerful demonstration of how art and preservation practice can join forces to permanently preserve Simone's remarkable legacy. Together, we will secure the home's future and inspire a new generation of diverse leaders who will memorialize the places where Black history happened."
Marc Glimcher, CEO of Pace Gallery, says:
"We're thrilled to be collaborating with this group of incredibly talented, influential artists to spotlight the African American Cultural Heritage Action Fund's Nina Simone Childhood Home preservation project. The Action Fund does such crucial work in preserving sites of Black history, and we're excited to have Brent, a leading architectural historian and preservationist, as a partner in this important initiative. At Pace, we're passionate about our artists' passions. When Adam came to us with his idea for this benefit, we jumped at the opportunity. In his paintings, drawings, and other works, Adam creates spaces of engagement, often using indexical or documentary processes, and this whole project speaks to the vast scope of that vision. The determination shown by Adam, Venus, Brent, and every artist participating in this fundraiser continues to inspire me and the gallery's wider community."
Charlie Stewart, CEO of Sotheby's, says:
"It is a privilege to work alongside Pace Gallery, Venus Williams, and a remarkable group of accomplished artists to preserve and celebrate Nina Simone's legacy. At Sotheby's, we are committed to lending our expertise by hosting benefit auctions that ensure our communities, and the causes they champion, have the resources they need to succeed. We look forward to a thrilling auction and a series of events this spring that will showcase the transformative power of art and collective action."
Born Eunice Waymon in Tryon in 1933, Simone nurtured an early love of music in her childhood home, a clapboard, three-room structure just 650 square feet in size. The National Trust designated it a national treasure in 2018, and the organization's African American Cultural Heritage Action Fund is working with the four artists who purchased the home—along with the Nina Simone Project, World Monuments Fund, and North Carolina African American Heritage Commission—to fully rehabilitate and activate the house as a means of sustaining the musician's legacy in perpetuity.
The Action Fund is developing a rehabilitation plan that aligns with the home's potential future use, identifies future ownership and stewardship models for the site, and creates additional protections to ensure that this symbol of Simone's early life and legacy will endure for generations to come. Since fundraising for the Nina Simone house project began, the Action Fund has raised nearly $500,000. This upcoming auction will generate a multimillion dollar donation for the site's ongoing preservation.
About the African American Cultural Heritage Action Fund
The African American Cultural Heritage Action Fund is a program of the National Trust for Historic Preservation in partnership with the Ford Foundation, The JPB Foundation, the Mellon Foundation, and other partners, working to make an important and lasting contribution to our cultural landscape by elevating the stories and places of African American resilience, activism, and achievement. Visit savingplaces.org/actionfund.
About Pace Gallery
Pace is a leading international art gallery representing some of the most influential contemporary artists and estates from the past century, holding decades-long relationships with Alexander Calder, Jean Dubuffet, Barbara Hepworth, Agnes Martin, Louise Nevelson, and Mark Rothko. Pace enjoys a unique U.S. heritage spanning East and West coasts through its early support of artists central to the Abstract Expressionist and Light and Space movements. Since its founding by Arne Glimcher in 1960, Pace has developed a distinguished legacy as an artist-first gallery that mounts seminal historical and contemporary exhibitions. Under the current leadership of CEO Marc Glimcher, Pace continues to support its artists and share their visionary work with audiences worldwide by remaining at the forefront of innovation. Today, Pace has nine locations worldwide, including a European foothold in London and Geneva; two galleries in New York; Los Angeles; Palm Beach; East Hampton; Hong Kong and Seoul, as well as an office and viewing room in Beijing.
About Sotheby's
Established in 1744, Sotheby's is the world's premier destination for art and luxury. Sotheby's promotes access to and ownership of exceptional art and luxury objects through auctions and buy-now channels including private sales, e-commerce and retail. Our trusted global marketplace is supported by an industry-leading technology platform and a network of specialists spanning 40 countries and 70 categories which include Contemporary Art, Modern and Impressionist Art, Old Masters, Chinese Works of Art, Jewelry, Watches, Wine and Spirits, and Design, as well as collectible cars and real estate. Sotheby's believes in the transformative power of art and culture and is committed to making our industries more inclusive, sustainable, and collaborative.
The National Trust for Historic Preservation, a privately funded nonprofit organization, works to save America's historic places.
SavingPlaces.org | @savingplaces