On September 6th, as part of the 'Freddie Mercury: A World of His Own' Evening sale, Sotheby's is honoured to introduce to the market one of the most important artifacts in pop culture- a 15 page folio of handwritten draft lyrics for 'Bohemian Rhapsody', in composer Freddie Mercury's hand. To mark this thrilling moment, Arsalan Mohammad looks back at the genesis, birth and afterlife of this extraordinary piece of music, that changed everything for Mercury, Queen and pop music forever.
( Don't miss the link to our favourite Leather Jacket at the bottom of the article...HAPPY PRIDE ! )
Live Aid, London, July 13th, 1985. At 6.41 pm on a sweltering London evening, Queen bound onstage. Freddie Mercury leaps across the vast promontory, energetically greeting the cheering crowd, before settling down at the piano, striking a few tentative notes and beginning to sing.
'Mama… Just killed a man…'
There is a colossal roar of recognition, before the 72,000 people in the crowd start singing along, in massed, wavering harmony. It's a safe bet that a great many of the estimated two billion viewers worldwide are singing along too. And as the song unfurls, Freddie goes on to give it his all in a 21-minute performance that will go on to be universally acclaimed the undisputed highlight of the biggest-ever gig in rock history, reminding the world why together, the alchemy of 'Bohemian Rhapsody', Queen and Freddie Mercury were unbeatable.
Could there have been any other song to meet this moment, that could instantly unite millions, in seconds? That July day showed again the ineffable power of 'Bohemian Rhapsody' to entrance and uplift billions of viewers, on a day full of appeals to the heart. And it succeeded, magnificently. 'Queen were absolutely the best band of the day,' organiser Bob Geldof said later. 'They played the best, had the best sound. It was the perfect stage for Freddie: the whole world!'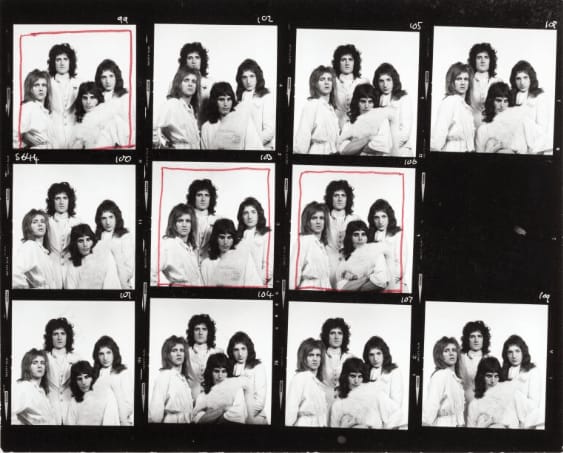 11 CONTACT SHEETS FROM MICK ROCK'S PHOTOSHOOT FOR QUEEN II, THE BAND'S SECOND STUDIO ALBUM, RELEASED IN 1974. KNOWN AS "THE PHOTOGRAPHER WHO SHOT THE 1970S", MICK ROCK'S MARLENE DIETRICH INSPIRED COVER PHOTOGRAPH WAS FREQUENTLY RE-PURPOSED BY QUEEN, AND BECAME THE BASIS FOR THE BOHEMIAN RHAPSODY MUSIC VIDEO THE FOLLOWING YEAR (1975). HAND-DRAWN MARKINGS AND CIRCLING ON THE CONTACT SHEET DENOTES THE PREFERRED SHOTS. ESTIMATE: £5,000 – £7,000
'Bohemian Rhapsody', Queen's sixth single, was first released in October 1975, trailing their transformational A Night at The Opera album. Like Queen's Live Aid appearance, the single was a dramatic, high-stakes gamble, undertaken by a band with something to prove, needing to reaffirm their phenomenal talent to themselves and the world.
No one had released a pop single like this before. Especially not a financially struggling young British rock group, three albums into their career, desperately in need of a make-or-break smash hit to fully vindicate their potential to conquer the global pop market.
'We felt it probably captured more or less all the types of moods that we were doing. So, we thought: OK, this is what we want to present to the public – let's see what they do with it.'
– FREDDIE MERCURY, 1976
'We felt it probably captured more or less all the types of moods that we were doing,' Mercury told Phonograph Record magazine in 1976. 'So, we thought: OK, this is what we want to present to the public – let's see what they do with it.'
But Queen had always been different. Roger Taylor, John Deacon, and Brian May, graduates in science and engineering, were gifted, practical, and reliable. Their mercurial front-man, meanwhile, steeped in art, music, fashion, and theatre was blessed with an electrifying, onstage charisma. From Queen's earliest days, he possessed the stage, thrilling audiences with swaggering showmanship and of course, that startling, octave-vaulting voice. But there was more to Freddie Mercury than just being an exceptional performer. A self-taught vocalist, with the exceptional ability to sing across three octaves, he had also learned to hone his exceptional talents for musicianship, composition, and writing. By 1975, after years of touring and recording, he knew he was ready for the big time. The question was, was the big time ready for Freddie?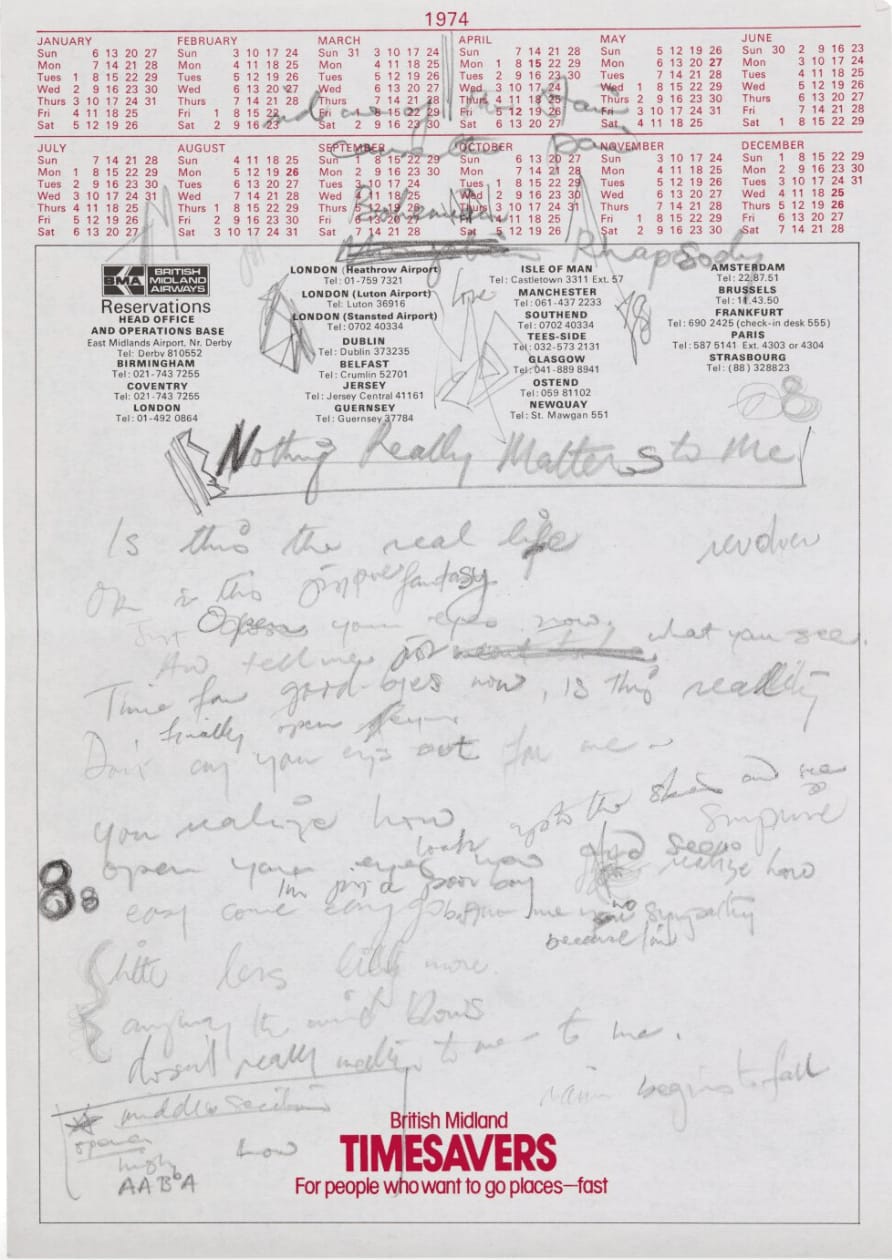 ONE OF 15 PAGES OF FREDDIE MERCURY'S AUTOGRAPHED WORKING LYRICS FOR BOHEMIAN RHAPSODY (C. 1974) ESTIMATE: £800,000 – £1.2 MILLION
Despite the success of 1974's Sheer Heart Attack album and its single 'Killer Queen' becoming an international hit, to say nothing of extensive global touring, Queen were severely frustrated by their lack of funds. Having persuaded Elton John's manager John Reid to take them on and drive them, as he had Elton, to international stardom, their new manager agreed to review their finances, issuing his new charges a simple instruction: 'Go into the studio and make the best record you can!'
'Bohemian Rhapsody', written entirely by Mercury, was the result. Woven from various fragments of lyrics and tunes he had been tinkering with for years, by the time Freddie came to draft the set of lyrics on the 15 pages included in Sotheby's Freddie Mercury: A World of His Own Evening auction, the structure was in place and ready to be presented to the band, during sessions for the A Night at the Opera album. The final version would last six minutes and encompass multi-tracked choral music, operatic motifs, heavy rock, and piano balladry.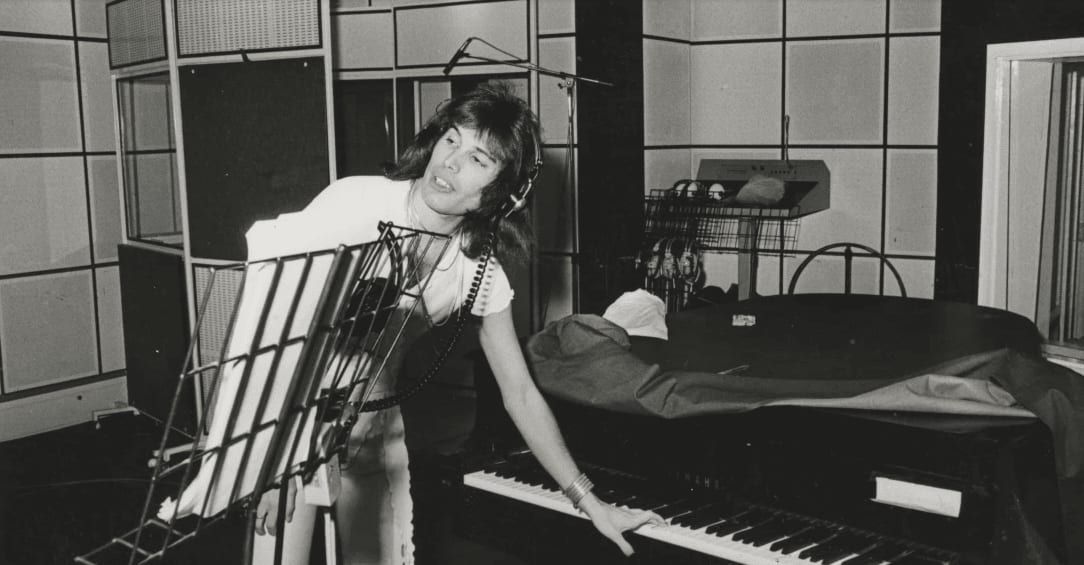 FREDDIE MERCURY AT A GRAND PIANO AT RIDGE FARM STUDIO DURING THE RECORDING OF QUEEN'S ALBUM 'A NIGHT AT THE OPERA', JULY 1975. (PHOTO BY WATAL ASANUMA/SHINKO MUSIC/GETTY IMAGES)
The track was gradually sculpted over three weeks of dedicated sessions across four studios, pushing the band's skill and musicianship to the max, testing the limits of recording technology and costing EMI more than any previous pop single to produce. 'The track had been evolving for a while,' said Brian May. 'We knew it was something very special. It was Freddie's dream.' As a final touch, 'Bohemian Rhapsody' invented the modern pop video, an extraordinary thing fluttering between high camp drama, electrifying in-concert footage, and state of the art video effects.
And ultimately, it redefined the parameters of pop, in a way not seen since the heyday of The Beatles. Fittingly, it would score a Beatles-like run at the top of the UK charts – nine weeks – making it the band's first UK chart-topper and affirming their passage into global pop mega-stardom, confirming Freddie's status as one of the greatest songwriters of his time. Peers such as Brian Wilson, Aerosmith's Joe Perry and Abba's Bjorn Ulvaeus were stunned – the latter admitting to being 'green' with envy when he first heard the single. 'It was the biggest single of the century' he said, some years later.
'That was really when the Queen volcano erupted, when it suddenly just went bang!' reflected Mercury, a couple of years after its release. 'That single sold over a million and a quarter copies in Britain alone, which is outrageous. Imagine all those grandmothers grooving to it!'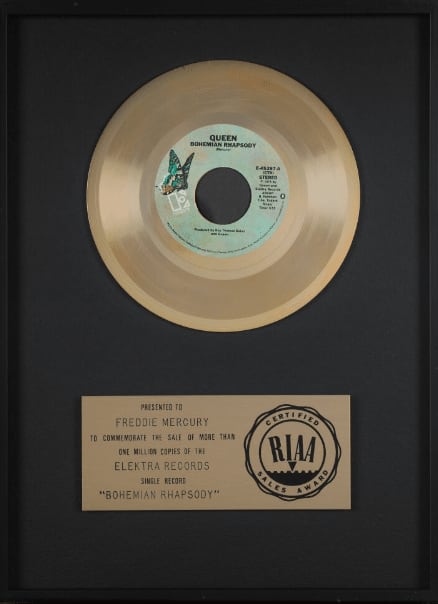 RIAA GOLD SALES AWARDS FOR BOHEMIAN RHAPSODY (EST. £4,000 – £6,000)
The grooving grandmothers were just the start. Record label EMI was initially reluctant to issue an uncategorisable, six-minute, chorus-free track as a single, fearing radio DJs wouldn't play it. This was immediately disproved when, in an act of bloody-minded determination, Queen's management slipped the band's friend, BBC radio DJ Kenny Everett, a test pressing of the single, with the firm instruction not to play it. 'Of course I won't!' winked Everett, before promptly teasing his audience with excerpts from the song over the course of a weekend. Such was the resulting public clamour to hear more, EMI capitulated and the single was issued, on Hallowe'en, 1975. Two years later in 1977, the British Phonographic Industry declared it 'The Best Single of The Last 25 Years'.
'That single sold over a million and a quarter copies in Britain alone, which is outrageous. Imagine all those grandmothers grooving to it!''
– FREDDIE MERCURY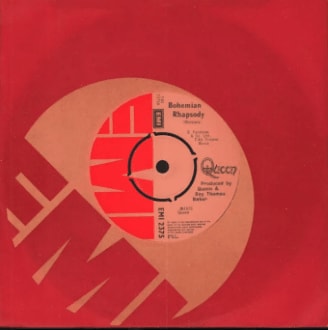 BOHEMIAN RHAPSODY' SINGLE (1975)
By 2018, according to the Official UK Charts, 'Bohemian Rhapsody' had sold over 2.5 million copies in Britain, and over six million worldwide. And by December 2018, when the Freddie Mercury biopic named after the track boosted the band's profile yet again, the song was recognized as the world's most-streamed track from the 20th century, surpassing 1.6 billion streams globally, across all major streaming services. It remains the biggest-selling British single of all time, excluding charity records.
It's been inducted into the Grammy Hall of Fame, topped countless critics and fans polls, and Freddie's vocal performance was elected by readers of Rolling Stone magazine as the best in rock history. It's topped the charts at Christmas twice (upon its 1975 release and again, following Freddie's death in 1991) and inspired some of the most memorable moments in pop culture over the past few decades (remember Wayne's World?) In short, 'Bohemian Rhapsody' is not just a pop song. It is a legend.
'I remember exactly where I was when I first heard "Bohemian Rhapsody",' says Sir Tim Rice, lyricist of some of the most popular musicals of the past half century. 'I was driving through East Grinstead in the winter of '75. I thought the record was extraordinary. I couldn't believe it was a single; it was so long, three or four numbers in one. It was operatic and theatrical as much as it was pop and rock. Even today, it's one of those recordings where you still hear new things in it, or have a new take on it, every time it's played.'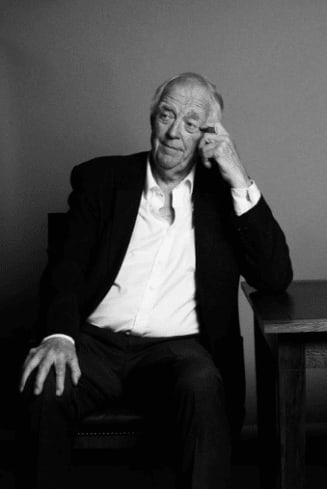 SIR TIM RICE (LONDON LIBRARY)
By 1976, Rice and Andrew Lloyd Webber were writing and recording a new musical, Evita, to follow their worldwide success with Joseph and the Amazing Technicolor Dreamcoat and Jesus Christ Superstar. 'We were working in the rock operatic theatrical field, and certainly felt that "Bohemian Rhapsody" was more than just a great pop record, a six-minute musical – and its massive commercial acceptance was encouraging.'
'I loved the way it ends – "nothing really matters much to me, anyway the wind blows". It's a brave thing to say in a song; it's easier to express something really positive but here is Freddie at the climax of a pretty self-lacerating song, revealing innermost feelings, saying, when all is said and done, nothing actually matters, I don't really matter. John Lennon also did that superbly in "Strawberry Fields Forever", which could have been a bit of an influence on Freddie.'
Both the band, and their producer Roy Thomas Baker, cited the Beatles' 'Sergeant Pepper's Lonely Hearts Club Band' as a pivotal influence. Brian May called the 1967 LP their 'bible', during the sessions for the eclectic A Night at The Opera album. And Beatle-y fingerprints are all over 'Bohemian Rhapsody' – not just in the unique compositional structure, ambiguous lyrics and precision-engineered harmonies, but also in the extraordinary lengths Queen and Baker went to in the studio, in realising Freddie's vision.
'It was as operatic and theatrical as much as it was pop and rock. It's one of those records, where you still hear new things in it, or a new take on it, every time you hear it.'
– SIR TIM RICE
'Freddie had mapped it all out,' Brian May recently told musician Rick Beato in a YouTube interview. 'He came into the studio with little pieces of paper on which he'd worked out every line in the song. He played it in pieces to us, initially in sections, and then we'd try it out. We would learn it, sing it, make sure it's all in tune and then we doubled [overdubbed] it, singing it over again, so it starts to sound nice and fat. It came together pretty quickly'.

QUEEN SHOOTING THE LIVE PERFORMANCE SECTION OF THE MUSIC VIDEO FOR THEIR SINGLE 'BOHEMIAN RHAPSODY' AT ELSTREE STUDIOS, HERTFORDSHIRE, UNITED KINGDOM, NOVEMBER 1975. (PHOTO BY WATAL ASANUMA/SHINKO MUSIC/GETTY IMAGES)
Indeed, so fat were the massed banks of harmonies, built up by dozens of layers of Freddie, Brian, and Roger's voices – it's estimated 'Bohemian Rhapsody' had 180 overdubs – the two-inch analogue master tape started to actually disintegrate during sessions. And, as producer George Martin found with The Beatles, Baker found Queen's demands for ever-more outlandish sounds and studio wizardry spurring him on to greater degrees of improvisation and resourcefulness, such as placing amplifier speakers inside concrete tubes, to give John Deacon's bass an extra robust 'honk'. In 1995, Baker recalled the song's evolution in an interview with Sight & Sound magazine.
'The first half, or ballad section, was done with piano, drums, and bass – the normal routine. Then, the end rock section was recorded as a separate song, in the way that we would normally record a loud rock number of that period. It was obviously very unusual, and we originally planned to have just a couple of "Galileos". But things often have a habit of evolving differently once you're inside the studio, and it did get longer and bigger…'
Energised by the creative potential of the band and studio, Freddie let rip with what has become his most famous set of lyrics. The story, in prosaic terms, opens with the young protagonist lamenting his impending death, a punishment for having 'killed a man'. In a manner reminiscent of The Beatles' 'A Day in The Life', having once established the scene, the vocal merges into a vertiginous instrumental bridge, May's snake-like guitar tone soloing skywards, before tumbling into a clipped, staccato piano motif and an arch tenor, enunciating briskly.
BOHEMIAN RHAPSODY (C. 1974) ESTIMATE: £800,000 – £1.2 MILLION
ONE OF 15 PAGES OF FREDDIE MERCURY'S AUTOGRAPHED WORKING LYRICS FOR
'I see a little silhouette-o of a man/Scaramouche, Scaramouche, will you do the fandango!'
Queen and Roy Thomas Baker approach this section, instantly recognisable, with such a vivid palette of ideas and influences that Freddie's allusive narrative moves swiftly through fear, disorientation, anger and exultation with pitch-perfect stylistic detail. It is a brilliant mimicry of operatic forms, with massed voices contrasting with aria-like solos, evoking fundamental themes that underpin many of the world's greatest operas; the human condition, crime, punishment, tragedy and transformation. Or then again, maybe, not. The band themselves were far from keen to elaborate on what it all actually meant.
'It's very self-explanatory,' commented Roger Taylor of the 'operatic' section, in a BBC documentary. 'There's just a bit of nonsense in the middle.' Mercury himself referred to the song as 'mock opera'. More prosaically, Brian May simply shrugged when asked for an interpretation, 'I don't think we will ever know'.
A 'SILVER MOONMAN' MTV VIDEO MUSIC AWARD FOR BEST VIDEO FROM A FILM IN 1992. THE VIDEO SPLICED TOGETHER CLIPS FROM QUEEN'S ORIGINAL BOHEMIAN RHAPSODY PROMOTIONAL VIDEO AND FOOTAGE OF THE BAND PERFORMING IT, TOGETHER WITH SCENES FROM THE FILM, WAYNE WORLD, WHERE WAYNE (MIKE MYERS) AND GARTH (DANA CARVEY) HEADBANG IN THE CAR TO THE ROCK SECTION OF THE SONG. THE AWARD WAS PRESENTED POSTHUMOUSLY TO FREDDIE MERCURY THE VERY SAME YEAR AND ACCEPTED BY BRIAN MAY AND ROGER TAYLOR. ESTIMATE: £15,000 – £25,000
Professor of English Literature, Matthew Beaumont at University College London, finds plenty of mystery in the lyrics of 'Bohemian Rhapsody,' but keeps a sensible distance from attempting a definitive interpretation of the text.
'It is very mysterious,' he says. 'It's challenging, partly because it is so enigmatic and because of all these shifts. But the quality of the writing, both the music and the lyrics, is so extraordinary that it always carries the audience with it. One of the things it does is to invite you to try to construct a narrative, it's constantly tempting you. But there are just too many different voices, and it's too multi-layered, to fit into a simple narrative template.'
When pushed, Beaumont does see some resonance in Freddie's lyric with the legend of Faust, in which a protagonist makes a pact with the devil, promising creativity in exchange for one's soul. 'So [perhaps] the song itself is the product of the pact that had been made with the devil.' He also sees direct influences from opera, with the line 'I see a little silhouetto' recalling 'Mozart at his campest', with characters such as The Magic Flute's Papageno.
'It's challenging, partly because it is so enigmatic and because of all these shifts. But the quality of the writing, both the music and the lyrics, is so extraordinary that it always carries the audience with it'
– PROFESSOR MATTHEW BEAUMONT, UNIVERSITY COLLEGE LONDON
'I think insofar as we can lock down the form at all, it's quite helpful to think of this in terms of a dramatic monologue rather than a rhapsody, because there's a fictional persona who seems to be speaking. Not least in the passages such as 'Bismillah, we will not let you go' et cetera. It's as if he's speaking in tongues, almost.'
This reading certainly chimes with a great many interpretations of the 'operatic' section which can be heard as a conflict between the condemned protagonist and the forces of darkness, crowded in on all sides by shrill, devilish interlocutors, ultimately won by the hero dragging himself back from the brink of death. But, as Freddie himself put it, 'we viewed it quite tongue-in-cheek'. Whatever was in his mind when he crafted these dense, allusive, brilliant lyrics, we will never know for sure. But the humour found in opera, especially when dealing with dark themes, greatly appealed to Mercury's impish wit, allowing him to create an ambiguity that invited any reading the audience might wish to make.
'One thinks of Puccini's La Bohème because of the title obviously,' says Beaumont. 'And there's a bit of La Bohème in the final verse, in that more reflective pathetic – in the technical sense of the term – line 'nothing really matters'. There is a melancholy and sadness there.'
The song's downbeat, resigned finale, rounded out with a regal swish of a tam tam gong, also beguiles Tim Rice. 'And at the end he's saying well actually, I don't want to be a bore about it, but it doesn't matter to me. But it does really. All these ironies are there, which makes them theatrical. Like – you can read a completely opposing string of thought underneath the main lyric or you can take it at face value.'
ONE OF 15 PAGES OF FREDDIE MERCURY'S AUTOGRAPHED WORKING LYRICS FOR BOHEMIAN RHAPSODY (C. 1974) ESTIMATE: £800,000 – £1.2 MILLION
Twelve years after the release of 'Bohemian Rhapsody', and the string of global smash hits that came in its wake (enough to ensure their 1981 Greatest Hits album became one of the best-selling albums of all time) Freddie was approaching the final crescendo of his career. His second solo album, Barcelona, was an opportunity for him to revisit the magical world of opera again, this time as a mature pop icon, known worldwide for his sky-scraping voice and flamboyant persona. And on Barcelona he finally gained acceptance as a truly operatic star. A collaboration on the title track, commissioned for the 1992 Barcelona Olympics, with his idol, the eminent soprano Montserrat Caballe, was 'a dream come true' for Freddie. Such was their rapport – there are many tales of the pair enjoying late night impromptu concerts around the piano at Garden Lodge, after raucous dinner parties – they embarked on recording the entire album together. For Freddie, it was a vindication of his ambition to be recognised and accepted as a rock singer who could more than hold his own alongside one of the greats of opera.
'I was a bit bewildered why Freddie even wanted me, because he writes such brilliant lyrics'
– SIR TIM RICE
At one point during the Barcelona sessions, Mercury declared himself 'lyric-ed out, darling,' and insisted on Britain's most celebrated musical lyricist joining him to help on a couple of tracks.
'I was a bit bewildered why Freddie even wanted me, because he writes such brilliant lyrics,' Sir Tim Rice recalls. 'So, I went around to his house a few times and we wrote the songs in one or two sessions, with him around the piano, just him and me. And he was such a friendly fellow. I think he just wanted a fresh approach to a couple of songs, and so I wrote deliberately theatrical lyrics which were stories, four or five minute stories, a bit like "Bohemian Rhapsody".'
Working with Mercury on his final masterpiece, inspired by 'Bohemian Rhapsody', Rice was convinced that had Mercury not tragically died, he would have soared higher, again invoking the spirit of that magical song, and making music that would transcend categorisation to touch everyone, delving deep into the human experience in an entertaining, symbolic and relatable way.
'I'm sure that, had we had the opportunity, it would've been great to have written a grand opera with him, really,' he concludes. 'Grand Opera. That's what I think he could have done.'

FREDDIE MERCURY (PHOTO BY FIN COSTELLO/REDFERNS)
AND WHO WOULDN'T WANT A STRUT DOWN CHURCH STREET THIS WEEKEND IN THIS LEATHER LEGEND!!!! R.I.P. Freddie
https://www.sothebys.com/en/buy/auction/2023/freddie-mercury-a-world-of-his-own-the-evening-sale/freddie-mercurys-arrow-leather-stage-jacket