Aqualuna | Arrive In Style
Aqualuna's two luxurious lobbies set the stage for the magnificence within. The indoor/outdoor amenity space on the sixth floor is home to a fully-equipped gym, theatre room, and glittering outdoor pool – serving to elevate your every day to the extraordinary.
Aqualuna | Have It All
Indoor and outdoor amenities boasting a fully-equipped fitness studio, spacious party room, and glimmering outdoor pool – all overlooking the beautiful Lake Ontario.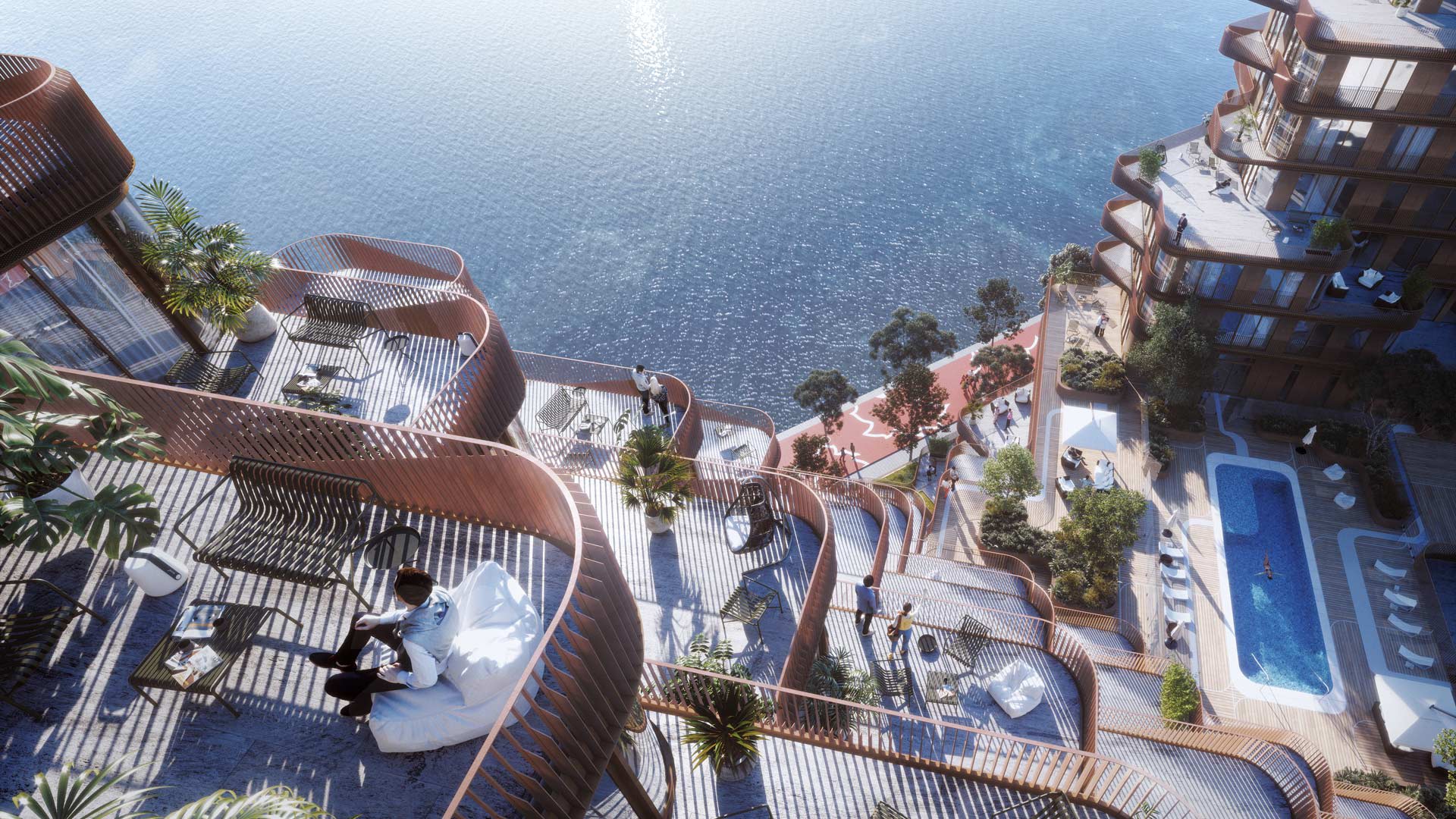 Aqualuna | Eastern Waterfront Transformation
Back in the old days when Toronto first began to take shape, factories and warehouses were built along the waterfront so ships could easily load and unload materials and finished goods. After all, there were no airports or highways – easy access to the lake had a high priority.

That changed as the city developed modern infrastructure, the old industrial sites fell into disuse, and manufacturing moved to the suburbs. And that's why for decades we've had 1,000 acres of land just east of downtown Toronto sitting vacant and unused, waiting to be redeveloped.

But with the impetus of the City of Toronto and Waterfront Toronto, these lands are beginning to transform. It's a massive undertaking, and Hines and Tridel are proud to be part of it. In the heart of the East Bayfront neighbourhood, the successful Bayside Toronto community is already welcoming visitors to the waterfront Promenade, for stunning views of the city and the lake. Along with four new condominium residences at Bayside Toronto, Hines and Tridel have also overseen the creation of the new Aitken Place Park, a peaceful green oasis.
Aqualuna | Cleaner, Greener, Lifestyle
Aqualina, Bayside's inaugural residential tower, welcomed its first residents last fall. The second condominium tower, Aquavista, and the third phase, Aquabella, are both under construction. Aqualuna at Bayside is the fourth and final chance to live in this award-winning community, and will complete the exciting lakefront vision for Bayside Toronto. Occupancy is expected in 2023.
Living at Bayside in a master planned new community, you're spectacularly located right beside the reimagined new Port Lands community along Toronto's eastern waterfront. It's an exciting time to live on the lake, as the old industrial lands are reclaimed and adapted to a 21st century lifestyle. A lifestyle that's sustainable, green, clean, prosperous, and technologically advanced.