Welcome to 11YV | 11 Yorkville
A World Renowned Address
Inspired by the towers of Manhattan, 11YV rises 62 storeys above Yorkville, with meticulously sculpted, elegantly-proportioned architecture and strong vertical lines. The building is a shimmering addition to the Toronto skyline, a bold new icon for the city, whose minimalist form will never age, regardless of the passing of time.
Reminiscent of the masterful metropolis era of New York City's landmark architecture, 11YV reinterprets this timeless style. The drama of the façade increases as it rises from street level, stone and steel giving way to a sleek glass envelope reflecting the vibrant urban scene of the city. A stepped design provides for multiple corner windows in residences, and private terraces with breathtaking views. The overall effect is captivating, architecture that evokes an emotional response. Clad in soaring stone piers that anchor the building to the ground, the podium pays homage to the neighbourhood architecture and activity – 25,000 square feet of retail space that integrates seamlessly into one of Canada's most exclusive shopping and dining districts. Outside the front door, visitors, residents, and guests step into an urban fairy tale – a contemporary garden unprecedented in the heart of the city.
Light, Versatile, the Perfect Way To Relax
The spectacular double-height lobby is perfect for the everyday, a soaring space accessible from the vibrant scene on Yorkville or through a discreet lane way entrance to the west. Same goes for the state-of-the-art fitness studio and the men's and women's spa, rain showers - all designed for everyday consumption.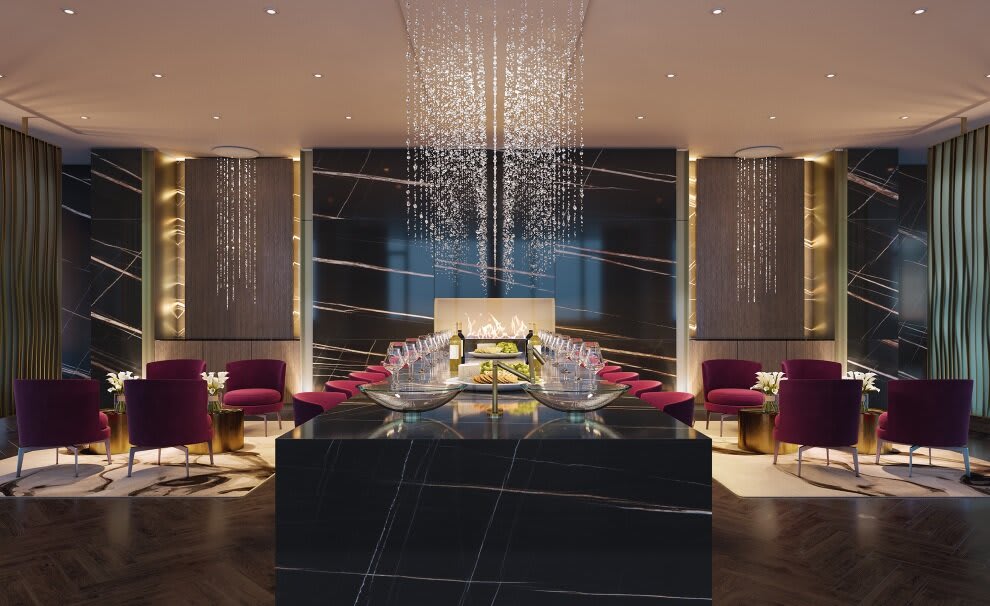 World-Class Amenities
Chic surfaces offer endless options to savor the view of this modern speakeasy.
Saturate Your Palette With Technology for Work and Play
Inspired by WeWork (the benchmark in co-working spaces around the work), the business centre at 11YV is a multi-functional space with a central meeting room clad in bronze glass and large pivoting panels that transform open concept co-working into private breakout rooms with a simple flip. Off the clock, gather friends in the hybrid theatre where tiered seating and surround sound gives you the experience of the big screen. Or head down to the chef's kitchen and TV lounge where you have everything you need - a 30" cooktop, a large screen TV, integrated refrigerator, dishwasher, built-in wall oven, ice maker, and built-in wine cooling stations - to cook up a storm and dazzle a crowd.
Luminous moonlight pool
Mood lighting captures the rippling surface of the indoor/outdoor pool
Rose All Day
The infinity-edged indoor/outdoor pool - a space as cool and refreshing as a chilled glas of your favourite blush-coloured wine. Featuring a waterfall, hot tub and fireplace, you'll be tempted to make this a part of your daily routine.
Break Out the Barolo
Exceptional celebrations call for exceptional wines… and exceptional spaces to match. At 11YV take your pick from an intimate piano lounge, a dramatic wine dining room, and an instagram-worthy, velvet-covered signature Bordeaux lounge. Tickle the ivories against the backdrop of a modern speakeasy, with sky-high bookshelves in wood, metal, and stone. Uncork bottles of every vintage in the wine dining room where a beautiful dining table unfolds beneath crystal installations, anchored by a larger-than-life gas fireplace that keeps conversation roaring.
Destination Yorkville!
Yorkville Kilometer zero for the city's well-cultured, well-educated, and well-heeled. A place where business meets pleasure. Where world-class cultural hubs rub elbows with Canada's top hospitals, businesses, and boutiques. Where, when someone mentions a 'power lunch' they could be talking about networking at one of the city's finest restaurants, or burning off energy in a heart-pounding session at Barry's Bootcamp. Bursting with arts, culture, innovation, gourmet pursuits, and signature luxury retail, this is an ever-evolving area that never fails to dazzle and intrigue.